KEMFLAKE
Star-Style Packing Ring
This versatile, high-performance star packing ring has been proven to provide superior capacity, separation efficiency combined with low pressure drop and higher liquid hold-up.
The serrated edges of the Kemlox saddle reduce bed settling during operation and assist to maintain packing free space and create lower column pressure drop. The Kemlox Plastic saddles are available in 1", 2", and 3" sizes. They are available in 5 and 10 cubic foot cardboard boxes. The proper installation is by dry dumping with reasonable care. Kem-lox saddles made of Polypropylene (PP) have been certified by NSF to Standard 61 for water treatment plant.
Independent testing confirms removal efficiencies greater than 99% for groundwater air stripping.
The low pressure drop reduces energy consumption in applications requiring blowers or compressors. This in turn can save more than 50% in energy cost compared to the plastic saddles.
The pressure drop benefits will reduce the blowers and tower size significantly, which creates a durable, more impact resistant shape that allows deep beds for multiply transfer unit absorption.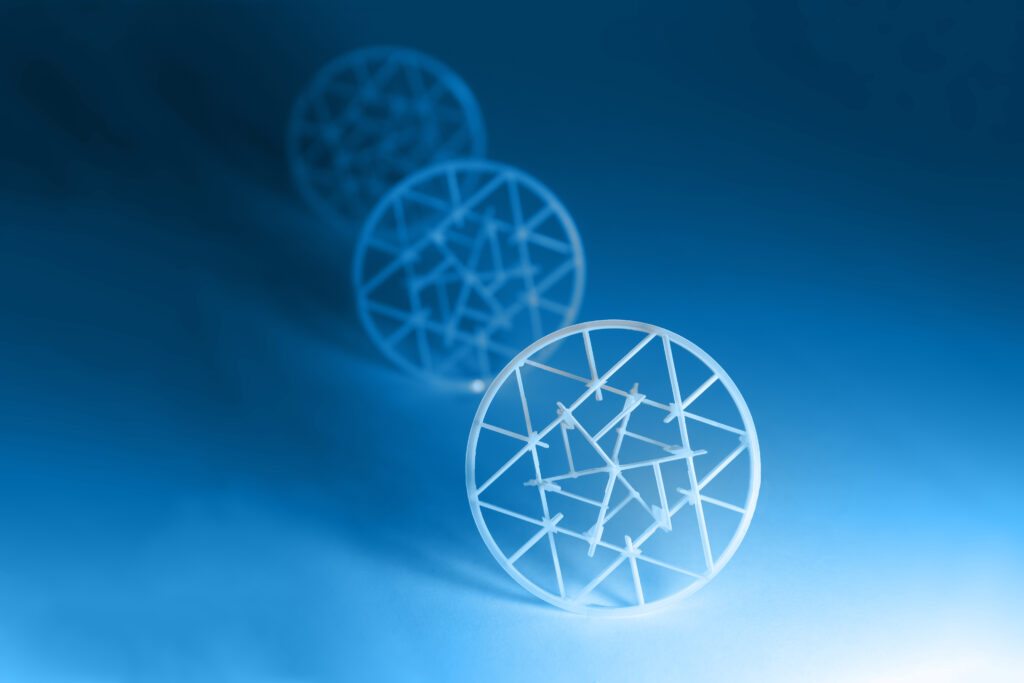 Water and air coolers in air separation plants
HCI absorption in various processes
Chlorine and bromine production plants
Environmental strippers and scrubbers
KEMFLAKE RANDOM PACKING
Dimensions (in)
3.66 (L) x 1.18 (H)
Dimensions (mm)
92.96 (L) x 29.97(H)
Free Volume
97 %
Bulk Weight
3.2 lb/ft 3
51 kg/m 3
Polypropylene and other materials available upon request